These are PikaLou's parents-
"Rutherford"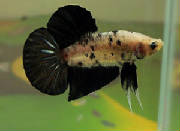 Dalmation PK Male
"Pikachu"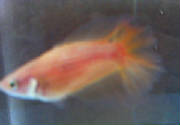 Yellow DT Female
Rutherford & Pikachu in the spawn tank!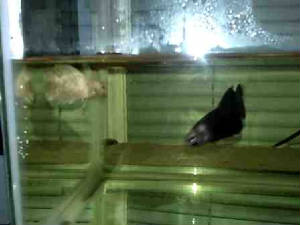 And The Embrace that gave us PikaLou!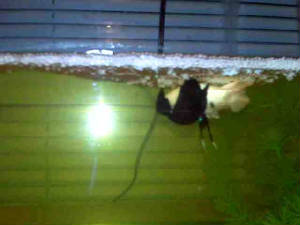 "PikaLou"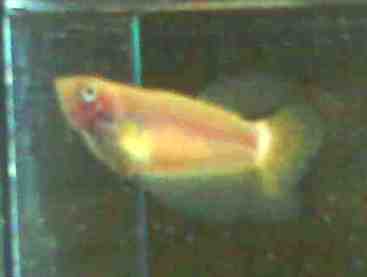 1 First Place & 1 Second Place & 3 3rd Place Finishes In Her Career!
Pikalou March 2011
Pikalou became alot more yellow as she aged..but she is still going strong!
There is a story about Pikalou that always amazes me! It was during the ABS Spring show in 2010, I was jarring my fish to be benched for the show and ABS President, Jamie Lee, was cataloging each fish, when suddenly and without warning...Pikalou jumped from her jar and slid into the drain of the sink! I had a panic attack...Jamie stuck her hand into the drain (which was also a garbage disposal!) and searched for Pikalou and found her!! With a slight cut on her side and her anal finnage ripped, she seemed not too bad off. So I entered her into the show anyway...treating her water for the cut on her side. Out of 4 fish, she still placed 3rd!! She is an amazing fish!!
Enter first column content here